Products & Services
Equity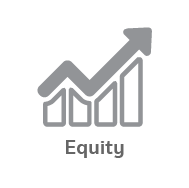 Equity is a security that represents ownership in a company. As proportionate owners of a listed company, common stockholders benefit from profit sharing through dividends and capital appreciation of stock prices. There are several types of stock trading accounts, as follow:
Benefits of investing in stocks
Investment gains from capital appreciations and dividend receipts.
Ownership in a business.
Choice of investments in various business sectors and companies.
Liquidity when deciding to divest stocks to hold cash.
Protection against inflation through growth in the underlying business of stocks.
Risks in investing in stocks
Fluctuations in stock prices subject to the performance of the invested businesses, economic situations and stock market conditions.
Business performance and dividend payouts may not always be stable.